Gray Line Tours
Music of Denali - 5:15pm
Music of Denali - 5:15pm - MOD1 Itinerary
*The 5:15 show is located on the McKinley Chalet Resort property. A complimentary dining shuttle is provided between McKinley Chalet Resort and Denali Princess Wilderness Lodge.
Included in your Tour:
Family-style meal including Alaskan salmon, smokehouse BBQ, hearty mashed potatoes and house-baked apple crisp.
Coffee, tea
Rollicking musical comedy
Itinerary
Kick back and laugh after a full day of sightseeing by joining in on this evening-long jaunt to a family-style roadhouse to see a side-splitting musical comedy about the first men to reach the summit of Denali (formerly Mt. McKinley). The evening begins with a dinner featuring Alaskan salmon, smokehouse BBQ, hearty mashed potatoes and house-baked apple crisps for dessert. Come hungry because this delicious spread is all-you-can-eat. While feasting on this savory meal, enjoy wonderful performances by a talented group of musicians and singers who hit all the right notes with lively songs and heartfelt sounds.
After dinner, unwind over a cup of complimentary coffee or tea or, if the mood suits, soda, beer, wine and cocktails are available for purchase. As total relaxation sets in, get ready to experience a truly delightful show that captures the legendary adventures of the first men known to scale the highest peak in North America, Denali (formerly Mt. McKinley), which juts 20,310 feet high into the vast blue sky. Also known as Denali, which means "The Great One," this towering mountain features two significant summits and five glaciers that flow down from the mountain's steep slopes. Through clever lyrics set to engaging music, the gifted cast tells the entertaining story of these early explorers, including Alaskan native Walter Harper, the first man to reach the main summit. Take in the indomitable pioneering spirit of this determined group who bravely made their way through the Alaskan wilderness to reach new heights, which, according to one of the men, explorer Robert Tatum, was like "looking out the windows of heaven." Enjoy the rollicking ride while experiencing the thrill of discovering gold and the unforeseen dangers faced when climbing this mammoth peak. Relish the spirited music full of funny, lighthearted lyrics and the gifted ensemble that bring this original musical and a slice of Alaskan history to life.

Please arrive 15 minutes early.
The total duration of the Music of Denali dinner theater experience is 2 hours; the show is 50 minutes in length.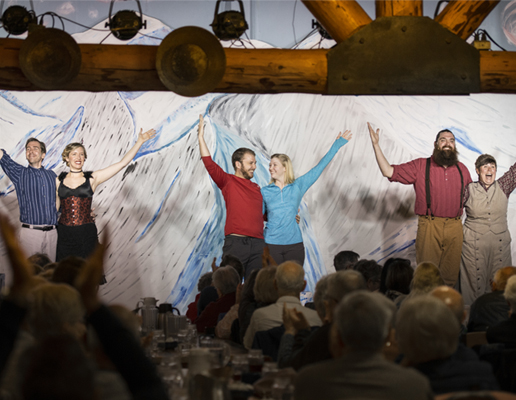 Prices (per person, double occupancy)
Adult: $69.95
Child: $34.95
Availability
Check Dates:
Book Now
← Back to Tours