Top Spots in Alaska for Fall Foliage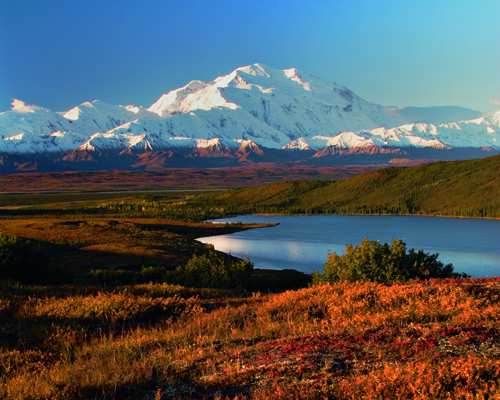 In Alaska, autumn is (somewhat unfairly) referred to as a shoulder season. Things really start to slow down after Sept. 15 and there's a noticeable calm that sets in. But there's nothing second-rate about Alaska in the fall. Ask almost any local and they'll tell you it's their favorite time of year, and it's a great time to tour Alaska without the crowds.
As early as mid-August and as late as October, patches of bright yellow, gold, red and purple break through the backdrop of evergreens and the ground is covered with a blanket of golden crunchy leaves.
No matter where in the state you are, you needn't travel far to experience the stunning views of Alaska in the fall. For planning purposes, keep in mind that the farther north you go the earlier you are likely to see the leaves turn.
Denali National Park
Denali National Park is one of the most favored spots for immersing oneself in the wonder of fall. The tundra's endless shades of green make way for a carpet of vibrant colors that grow even more alive in contrast with the blue skies above, and the stark white of the Alaska Range and glittery lakes and streams below. Shuttles travel as far as 95 miles deep into the park, letting you sit back and enjoy the brilliance of your surroundings while someone else does the driving. You will need no filters for the photos you take here!
Broad Pass
Just south of Denali National Park and the community of Cantwell, the Parks Highway climbs up through Broad Pass, one of the most magnificent stretches of road in Alaska, especially in fall. The brilliant colors—strawberry red, deep purple and a million shades of gold, alongside large swatches of bright green—will leave you breathless.
Glenn Highway
As you travel farther south toward Southcentral Alaska, aspen, birch and alder trees stand tall along the roads and take the place of the low-bush tundra. A drive east along the Glenn Highway, past Palmer and Chickaloon, will take you to Matanuska Glacier, a 27-mile landscape of ice nestled in a valley full of colorful trees. The highway travels above the canyon and there are numerous vistas along the way to stop and snap photos or just relax in the splendor of it all.
Anchorage and Fairbanks
For more fall vistas, you really don't need to leave the city at all. Even the trees adorning restaurant courtyards and downtown streets in Anchorage and Fairbanks have turned their colors. Denali National Park and the area around the Matanuska Glacier are definitely up there on our list of best places to experience autumn in all its glory, but this time of year, it's everywhere. All you have to do is put on a jacket and get outside.
Back to Blog