Back to Copper River Tours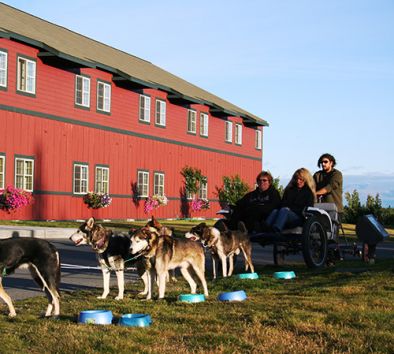 Dog Sled Demonstration & Ride
Duration
Approximately 20 minutes
Daily Departures:
May 18 -September 16
8:00am, 8:30am, 9:00am, 9:30am, 10:00am, 9:00pm, 9:30pm
Price from
Child - $39.95
Adult - $49.95
Easy Activity Level
Family Friendly
Wheelchair Accessible
Step outside the Copper River Princess Wilderness Lodge and meet a local musher and his dog sled team to learn how dogs are kept in shape during the summer months. Long before the Iditarod became world-famous, Native Alaskans used dog sleds in their everyday lives to help survive the cold, haul food and pull heavy loads. During the Alaskan gold rush, dog sleds were required to bring much-needed supplies up over the mountain passes and glaciers. When winter is over, mushers use wheeled carts to keep their dogs fit for winter sporting events and for everyday transportation. After a brief demonstration, hop on board and experience the strength and enthusiasm of these dogs as you're pulled through the wilderness.
Special Note
Maximum weight is 250 lbs. Tour operates outside of the Copper River Princess Wilderness Lodge. Guest must be able to walk from lodge waiting area to entrance. Wheelchair bound individuals may participate but must be able to transfer from their chair to the dog sled.
This tour can only be booked in conjunction with a Gray Line Alaska package. To add this tour to your package, please call 1-888-425-1737.