Back to Denali Tours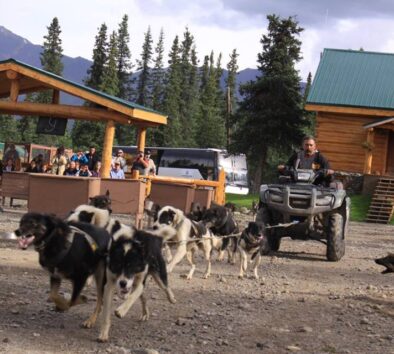 DogGoneIt Kennel Tour
Duration
Approximately 3 hours
Daily Departures:
May 15 -September 15
8:00am, 7:00pm
Price from
Adult - $69.95
Child - $54.95
Easy Activity Level
Family Friendly
Visit the home and kennel of Iditarod musher Mike Santos. You'll have the opportunity to meet his dogs, hold puppies and virtually experience the Iditarod race. Your intimate visit will bring you into his home and includes a 90 minute narrated tour during which you'll learn about sled dogs, the Iditarod race and life in rural Alaska. The tour emphasizes multimedia through which you can experience the feeling of being on the Iditarod trail.
To begin, you'll hold a puppy and view their play area. Then you'll watch a team of enthusiastic sled dogs take off for a summer training run. Then you'll view a 90 minute multimedia presentation that features video footage from the race, photos and equipment used. Hear stories of successes and challenges encountered along the way, participate in a question and answer session and see the dogs one last time before heading back to your hotel.
Special Notes:
Dress in warm layers. Wear comfortable walking shoes. Bring a jacket, gloves and a hat. Children under the age of 16 must be accompanied by parent or guardian. Transportation to and from the venue is not wheelchair accessible.
This tour can only be booked in conjunction with a Gray Line Alaska package. To add this tour to your package, please call 1-888-425-1737.