Back to Denali Tours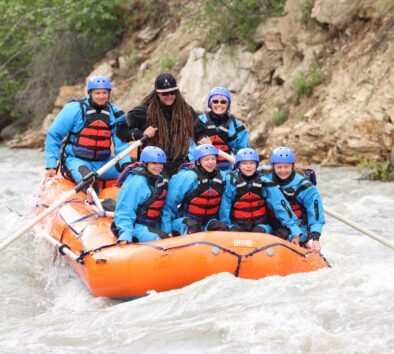 Canyon Wave Tour
Duration
Approximately 3¼ hours
Daily Departures:
May 15 -September 15
call for departure times
Price from
Per Person - $134.95
Moderate Activity Level
Nature & Wildlife
On the Canyon Wave Raft Tour, you'll journey through 11 miles of awesome rapids on the Nenana River with spectacular views of Denali National Park gems, like Mount Healy and Sugarloaf Mountain. Join the team as a Paddle Rafter or play it cool and be an Oar Boat Rider — whatever floats your boat.
OAR BOAT RIDER
This option allows you to play it cool and ride along. With an Oar Boat Rider, you can hold on and enjoy the adventure as your guide navigates you downriver. This option allows rafting in Alaska to be feasible for almost anyone. In an oar boat, guests are less likely to fall out because they are holding on.
PADDLE RAFTER
This option allows you to heat it up and actively paddle through the waves with your guide. We ask that guests are 15 years of age or older to paddle. In a paddle raft, you'll ride with a professional guide steering you from the back, while you and your team paddle together. There are plenty of breaks from paddling for you to relax and enjoy the views of Denali National Park. The Paddle Rafter demands a higher activity level than riding along in an oar boat. This option is the best for the more adventurous crowd!
SPECIAL NOTE
Minimum Age is 12. Maximum height 6'8" feet tall. Maximum weight 300. Restrictions for pregnant women, recent back surgeries, and allergic to cold water. Drysuit, helmet, paddle, river shoes and life jacket are included. Recommend non-cotton base layers, like polyester or wool, yoga pants, long johns, or snug-fitting clothes to wear underneath the drysuit, 2 pairs of non-cotton socks to help stay warm (your feet will be dry but, they will be sitting in the bottom of the raft), rain jacket and eyeglass retainers.
This tour can only be booked in conjunction with a Gray Line Alaska package. To add this tour to your package, please call 1-888-425-1737.