Back to Fairbanks Tours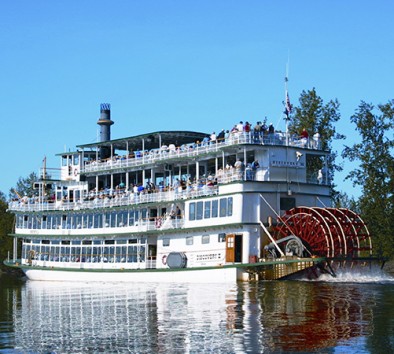 Riverboat Discovery Cruise & Gold Dredge 8 Combo
Duration
Approximately 7 3/4 hours
Daily Departures:
May 15 -September 15
9:30am
Price from
Adult - $159.95
Child - $138.95
Easy Activity Level
Meal Provided
Wheelchair Accessible
Board the only remaining authentic Alaska sternwheeler for a cruise along the Chena and Tanana rivers in Chena River State Recreation Area. During this narrated cruise, you will witness the unique line where the clear waters of the Chena meet the Tanana, the world's greatest glacier river carrying tons of glacial silt from the Alaska Range. Your next adventure carries you to the home of Dave Monson and the late Susan Butcher, four-time Iditarod champion. Here, you will meet their winning sled dogs and witness a sled-dog demonstration. From there, continue on to the Old Chena Indian Village and disembark for a glimpse into local life and history. Native guides will take you on a tour of an Athabascan Indian village, a spruce bark hut and trapper's cabin made of spruce logs. Next, board a train to visit the Gold Dredge 8, a National Historic Monument! Local miners will give a brief course in mining, then you can try panning for yourself. You will find gold — we guarantee it! Finally, explore the dredge camp and visit the gift shop, where you can have your gold weighed and find out the dollar value based on the current market price. Turn your gold into a memorable keepsake before boarding the train for the return back to the station.
This tour can be booked in conjunction with a Gray Line Alaska package or on its own. To book this tour, please call 1-888-425-1737.