12 Best Alaska Beers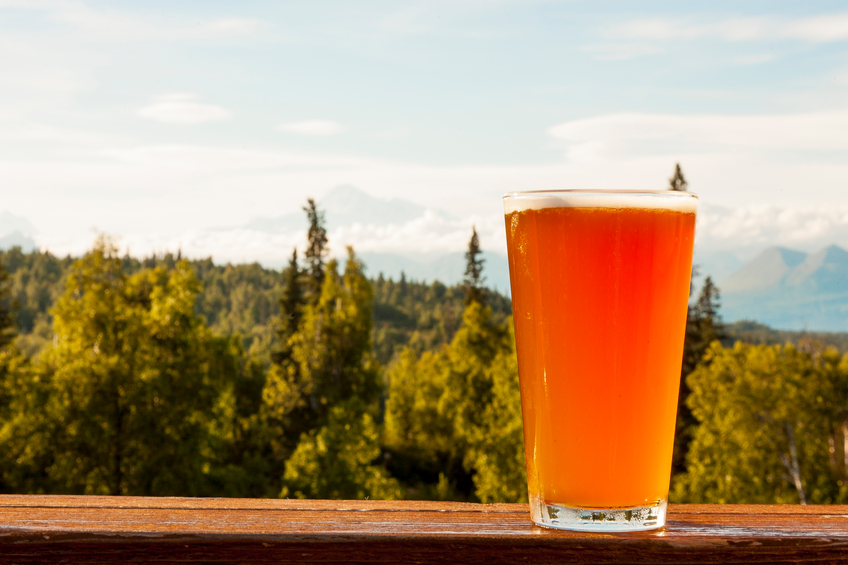 From Spruce Tip Blonde Ale by Skagway Brewing Co. to Pararescue 212 Porter by Odd Man Rush Brewery, Alaska has a wealth of craft brews to offer. With more than 50 breweries, distilleries, meaderies and cideries in Alaska, there are many great flavors to choose from. To make things easy for beer lovers, we've compiled a list of 12 of the best ones to try.
This list is just a sample of the specialized, tasty, handcrafted microbrews you will find in the Great Land. While these are our must-tries, we encourage you to venture across the breweries and find what suits your own tastes. Wherever you plan your Alaska sightseeing experiences, you're sure to find one of the best beers in Alaska nearby.
1. Spruce Tip Blonde
Brewery: Skagway Brewing Co.
Type: Blonde ale
ABV: 5.4%
IBU: 18
Skagway, Alaska, is a historic and picturesque town known for its gold rush heritage and charming atmosphere. When traveling through, a must-stop spot is Skagway Brewing Co. Their famous Spruce Tip Blonde takes handpicked Sitka spruce tips and infuses them into this favorite beer that is described as having a floral taste and slightly sticky body. The pub offers a welcoming environment with a warm and rustic ambiance.
2. Magic Ooze Hazy IPA
Brewery: Onsite Brewing Company
Type: New England hazy IPA
ABV: 6.2%
IBU: N/A
This magical elixir is expertly balanced with galaxy and citra hops, oozing a delicious juiciness. Though Onsite Brewing Co. is relatively new to Anchorage, the Magic Ooze Hazy IPA is not a beer to sleep on. As a community-focused, neighborhood nano-brewery, Onsite is proudly one of Alaska's smallest breweries, making only small batches of its craft beer.
3. Blessed Imperial Stout
Brewery: Anchorage Brewing Company
Type: Imperial stout
ABV: 15.5%
IBU: N/A
Indulge in the Blessed Imperial Stout, a blend of one- and three-year-old bourbon barrel-aged imperial stouts, finished with coconut and Madagascar vanilla beans. The result is a dessert-like concoction, with hints of German chocolate cake, waffle cones, bourbon, and burnt caramel.
Anchorage Brewing Company is a crowd favorite, with an industrial interior, outdoor fire pits and rooftop views of the Chugach Mountains in Anchorage. The brewery also carries a selection of wines and alcohol-free beverages.
4. Bavarian Weissbier
Brewery: HooDoo Brewing Co.
Type: Hefeweizen
ABV: 5%
IBU: 10
The Bavarian Weissbier will transport you to Munich, Germany, on an Oktoberfest day. This beer is cloudy, crisp, effervescent and refreshing, with aromas of banana, clove and bubblegum. Using a strain of yeast that has been used in Germany for centuries, the Weissbier stays true to the Bavarian traditions.
HooDoo Brewing Co. is more than just a brewery­ — it's a must-visit destination during a Fairbanks trip. Each beer showcases old-style ingredients and processes. The brewery includes an outdoor beer garden, with plenty of seating and fire pits to enjoy any time of year. If you get hungry, there's often a food truck right outside.
5. No Woman No Cryo
Brewery: Girdwood Brewing Co.
Type: New England hazy IPA
ABV: 7.5%
IBU: 62
Soft, tropical, and juicy, the No Woman No Cryo is so good and popular that even non-IPA drinkers find they like it. With citra and mosaic cryo hops, this beer is full of flavor and aroma.
Girdwood Brewing Co. was founded by twin brothers as a testament to their dream of creating a corner for the adventurers that spend their days in the mountains. As you walk into the brewery, you'll see benches outside made from skis and snowboards, a nod to the mountain charm of Girdwood. Whether you've spent a day conquering the slopes of Alyeska Resort, hitting the trails, or taking a relaxing drive along the Turnagain Arm on the Seward Highway, this place is the spot to unwind and relish the perfect brew.
6. King Street Imperial Stout
Brewery: King Street Brewing
Type: Stout
ABV: 10%
IBU: N/A
Experience the King Street Imperial Stout, a majestic brew with rich, dark flavors, subtle notes of coffee and hints of caramel and vanilla. Its light and buttery texture leaves a velvety taste in your mouth.
As one of the most popular breweries in Anchorage, King St. Brewing moved locations in 2018 to a three-story building with rooftop access. The brewery now serves homemade pizza and soft pretzels and offers a wide selection of brews. Enjoy the rooftop with scenic views and board games for fun-filled moments with friends.
7. Framb Was
Brewery: Turnagain Brewing
Type: Framboise-style ale
ABV: 5.4%
IBU: 5
The Framb Was is the goldilocks of beers — not too dry, not too sweet, not too sour, but just right. With ripe raspberry flavor, this beer is a favorite for a summer day.
Turnagain Brewing is nestled right next to the Campbell Creek Trail in Anchorage, welcoming bikers on their way home from work to unwind. This inviting and cozy brewery boasts a large array of beers to satisfy every palate. Plus, it's dog friendly, making it an ideal spot for pet lovers to enjoy their brews in good company.
8. Alaskan Amber
Brewery: Alaskan Brewing Co.
Type: Amber
ABV: 5.3%
IBU: 18
The Alaskan Amber pays homage to the slow and cold fermentation process that results in a rich, malty brew. The recipe for this beer was found in old archives, originally from Douglas City Brewing Co., operating from 1899-1907. This gold eush-era brew was the first beer made by Alaskan Brewing Co. and still stands today as a classic.
As the 67th independent brewery in the country and the first brewery in Juneau since prohibition, Alaskan Brewing Co. has carved its legacy. Using Juneau Icefield glacial water, Tongass National Forest spruce tips, and alder smoke, this brewery's beers embody Alaska.
9. Bitter Monk Belgian IPA
Brewery: Anchorage Brewing Company
Type: Belgian IPA
ABV: 9%
IBU: 100
The Bitter Monk is just as it sounds — bitter with citrusy hops and malt infusions, triple-fermented for dramatic effect. The Belgian heritage of this beer shines in the yeast, which adds another level of complexity to this brew. The beer was inspired by the idea of "go big or go home."
10. Twister Creek IPA
Brewery: Denali Brewing Company
Type: IPA
ABV: 6.7%
IBU: 71
Twister Creek IPA embodies the art of masterful brewing, blending Pacific Northwest and British hops to create a symphony of flavors. This brew boasts an interplay between high bitterness and a malty foundation, giving a fullness and well-balanced flavor to this IPA.
On the road to Talkeetna, this brewery captivates visitors with not only its beers, but also its craft mead, cocktails and ciders. Denali Brewing Company is a perfect stopover while exploring Talkeetna or Denali.
11. Wild Country Raspberry Wheat
Brewery: Broken Tooth Brewing
Type: Fruit beer
ABV: 5.3%
IBU: 11
The Wild Country Raspberry Wheat is a refreshing treat, brewed with a blend of wheat and barley malts, and a puree of raspberries, this beer is a pink delight! The tartness of the raspberry is balanced with the malts, giving a clean sip to this beer.
While Broken Tooth Brewing doesn't have a taproom, you can easily find their creations at Bear Tooth and Moose's Tooth in Anchorage. Not only are the beers highly coveted, but Moose's Tooth is the highest grossing independent pizza restaurant in the U.S. What goes together better than beer and pizza?
12. Pararescue 212 Porter
Brewery: Odd Man Rush
Type: American porter
ABV: 6.2%
IBU: 24
Savor the sweet and creamy texture of the Pararescue 212 Porter — an exceptional brew from Odd Man Rush. With blends of malted barley and vanilla, this beer has been likened to a toasted marshmallow. The beer's name comes from the 212th Rescue Squadron based in Alaska, known as the busiest rescue force in the nation, as well as one of the most elite. The pararescue men, also known as PJs, are equivalent to U.S. Army Special Forces and Navy SEALs.
Near Eagle River, this craft neighborhood brewery was founded by three local home brewers. Stepping into Odd Man Rush, you'll be greeted by the unmistakable Alaska vibes, with walls adorned by an eclectic collection of Alaska license plates. The brewery offers a spacious and welcoming ambiance.
Back to Blog