Alaska Weather and Seasons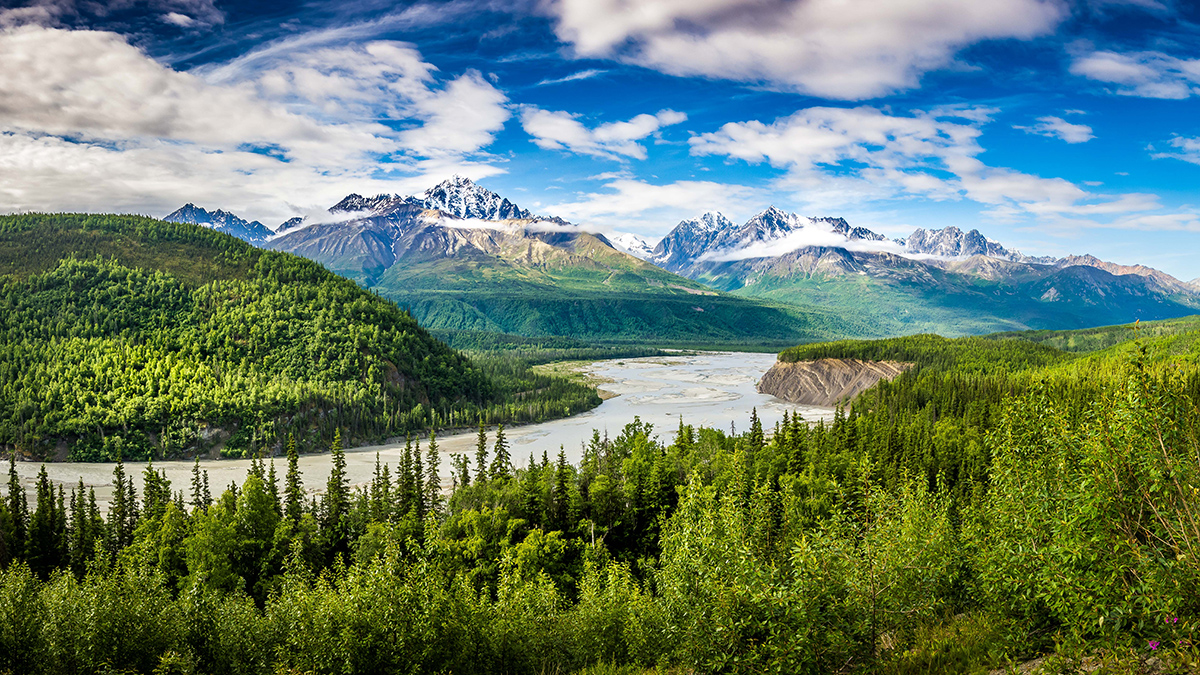 Your guide to weather in Alaska and finding the best time to visit
Despite what you may have heard, Alaska experiences all four seasons. And Alaska summers can be warm! Summer runs from May to August and while that may seem short, it brings mild, warm temperatures to the region. Depending on where you're at in the state, summer temperatures can even be classified as hot!
Winter, of course, can be cold. Interior and northern Alaska experience some of the most extreme temperatures. In Fairbanks, the average high for the month of January is 1 degree.
This guide will help you choose the best month for your visit to Alaska.
Summer in Alaska
Summer in Alaska is typically mild, with warmer temperatures from May to September. The increase in temperatures starts in the Southern Inside Passage region that contains Juneau, Skagway, and Sitka, and then moves north to regions like Fairbanks. Summer temperatures in Alaska range from 60 to 80 degrees, but can drop down to 50 degrees in the evenings.
Winter in Alaska
Winter in Alaska can be extreme with subfreezing temperatures and large snowfall totals. As highs remain below freezing, much of the state is blanketed in snow throughout the season. Areas along the coast experience a warmer climate than inland areas, where temperatures can drop to -20 degrees.
Alaska weather in January
January is often Alaska's coldest month. The average low in Fairbanks in January is 17 degrees below zero while Anchorage's is 11 degrees. Snow is almost guaranteed in Interior and Southcentral Alaska during January.
Alaska weather in February
Similar to January, February is a cold month in Alaska. While average temperatures are a bit higher, it's not by much. Alaskans enjoy these cold winter months by getting outside to go ice skating, cross-country skiing and more! Even Alaska animals have adapted to its long winters. Check out some of our favorite Alaska animals' winter strategies.
Alaska weather in March
March is when temperatures starts to rise in Alaska. The sun makes an appearance for more than five hours a day. The average temperature climbs to a high of 34 degrees in Anchorage but there is generally still snow on the ground, which means you can get outside to play! Skiing, snowmachining, dog mushing – name a winter sport and you can most likely do it outside in March.
Alaska weather in April
Alaska in April is bright, mildly cold and slushy. It is lovingly referred to as breakup season. Breakup is when the snowpack that has been building all season finally starts to melt. It is a true indicator that spring has arrived and the sun is back to stay.
Alaska weather in May
May kicks off the summer season in Alaska, with most summer tour operators open for business mid-month. Early May can still be chilly with temperatures sitting in the 50s in Southcentral Alaska. Most visitors will do fine with a light jacket.
Alaska weather in June
June is when Alaska summer hits its stride. The summer solstice on June 21 marks the peak amount of sunlight. Days are long (it doesn't have the nickname "Land of the Midnight Sun" for nothing!) which means more time to play in the 60-degree weather.
Alaska weather in July
July is another prime summer month in Alaska. In the Interior region, temperatures peak in the 80s and there is plenty of daylight to go around.
Alaska weather in August
August is often Alaska's wettest month. If you're visiting Southcentral or Southeast Alaska, be sure to pack rain gear if you're headed anywhere outside. Not sure how to pack for your upcoming trip? We've got you covered. Check out our Alaska packing guide.
Alaska weather in September
In September, you'll see locals taking advantage of more touristy locations as the crowds lessen. Tourist season officially wraps in mid-September, but if you're lucky, you may get nice weather through the end of the month.
Alaska weather in October
In Southcentral Alaska, October usually marks the first snow at higher altitudes. While there's not usually enough snow for winter sports, there are less crowds than the summer months – making it the perfect time to explore. As temperatures drop and the roads begin to freeze, make sure to follow safe winter driving precautions.
Alaska weather in November
November marks winter again in Alaska. There is usually snow underfoot and daylight is waning. For Alaskans, November is usually the true start of winter.
Alaska weather in December
December is a chilly but beautiful month in Alaska. The sun is at an all-time low and clouds often block what little sun there is. The winter solstice marks the darkest day of the year. After, daylight will slowly be gained back. Not to worry, many residents keep up twinkling holiday lights most of the darker months of year, illuminating the sparkling snow and creating a true cozy vibe indoors.
Most visitors to Alaska in search of wildlife, national parks, world-class fishing and more, choose to come during the summer and fall seasons. Northern lights chasers are apt to visit from the fall into winter months. Whichever season you choose to visit, you are sure to find adventure and a great time.
Looking to book a summer Alaska tour? Gray Line offers rail and self-drive tours through some of Alaska's top summer destinations.
Back to Blog