Unspoiled Alaska: The 7 Most Beautiful Places to Visit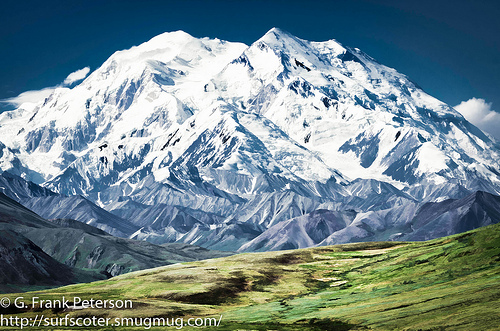 As the biggest and least densely-populated state in the union, Alaska has thousands of miles of protected landscapes, ensuring that its sense of tranquility and remoteness will be there for future generations. In a state brimming with mountain crags, herds of caribou and serene ocean vistas, where you do you start? We've hand-selected some of our favorite awe-inspiring, pinch-yourself, otherworldly places to see in Alaska.
1. Denali National Park
First view Denali, North America's tallest peak, from Wonder Lake, where The High One is jaggedly reflected in the still waters. 18,000 feet of sheer vertical relief mean that the summit is quite literally in the clouds. The mountain has a core of granite and slate, but at least 50% is encased in ice that can be layered hundreds of feet thick. This ice feeds the many glaciers that ring the base of Denali. How does it stay so icy? Blame that on the extreme temperatures (95 degrees below zero in the winter!) and blasting winds of up to 150 mph.
Good thing you don't have to experience any of this as you enjoy the splendor of this Alaskan treasure from the valley floor. In the summers, the thin topsoil is blanketed with a colorful variety of mosses, lichen, and fungi, not to mention the blooms of over 430 flowering plants, including the forget-me-not, Alaska's state flower. As if you could.
2. Katmai National Park and Preserve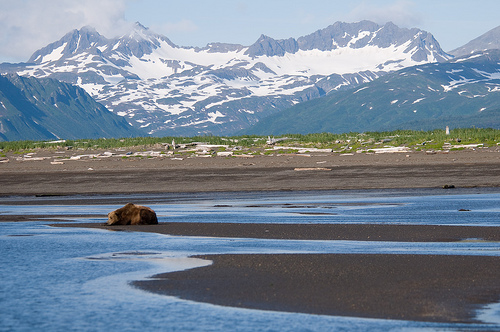 This photo is used under a Creative Commons license by T. Marschner
Katmai's base camp of King Salmon can only be reached via ferry or plane, but once there, this remote natural world on the Alaska Peninsula feels like stepping back into a primordial era.
A huge attraction in the Park is Brooks Falls, where grizzly bears line up during the salmon spawn to dine on a waterfall-to-mouth feast. If you have seen this footage before on nature shows, prepare to be wowed by the sight of these bears up close and personal.
Another fascinating view can be had in the Valley of Ten Thousand Smokes, where a completely unknown volcanic vent (Novarupta) brought itself into immediate notice with the 20th century's most powerful volcanic eruption. As the Ukak River valley was buried beneath hundreds of feet of scalding ash, the water beneath heated to steam and escaped as fumaroles, which are fascinating cracks in the surface of the hardened ash field.
Now, even as the steam has cooled, the valley is still very worth seeing for the contrast of its multi-colored volcanic plain, the remaining snow-topped peaks, and the collapsed mountain of the 1912 eruption. It's simply incredible, and oh-so-Alaska.
3. Matanuska Glacier
This photo is used under a Creative Commons license by Frank Kovalchek
In a state full of glacier activity, Matanuska Glacier is the granddaddy of them all. Located near Matanuska Glacier State Recreational Site, it is the largest glacier that can be accessed by car, and clocks in at 26 miles long and 4 miles wide at its endpoint.
Just how did Matanuska arrive at its current location? It has been in a period of glacial retreat for around 10,000 years, and while other Alaska glaciers have seen accelerating retreats in the past century, Matanuska has remained relatively stable for 20 years and counting.
It is a "valley glacier," and has the very mystical power of generating its own microclimate: as it flows through the Chugach Mountain valley, the cold air of the super-pressured glacial ice forces warm air upwards, thus creating a pocket of more favorable weather in its immediate vicinity. Pretty neat.
If the stunning view from the road leaves you wanting more, a small fee gains you access to Matanuska Glacier Park, where you can hike on your own or with a guide and see the crevassed, enigmatic, blue ice up close.
4. Kodiak Island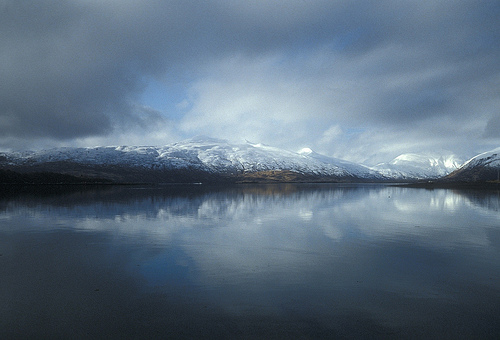 This photo is used under a Creative Commons license by U.S. Fish and Wildlife Service
Also only accessible via ferry or sea plane, Kodiak Island is known as Alaska's "Emerald Isle" and boasts stunning coastline and meadows alive with blooms.
Kodiak's mild coastal climate lends itself to a diverse range of wetlands and plant species, and it hosts a Sitka Spruce forest that is the only forest of its kind in the world. To top it off, the Kodiak bears roaming about the island are a subspecies one can only discover on the archipelago.
From the intriguing WWII history at the Fort Abercrombie State Historical Park to the glimmering ocean vistas and electric green fields, Kodiak is a can't-miss destination for those hoping to grasp serenity at sea.
5. Tatshenshini-Alsek River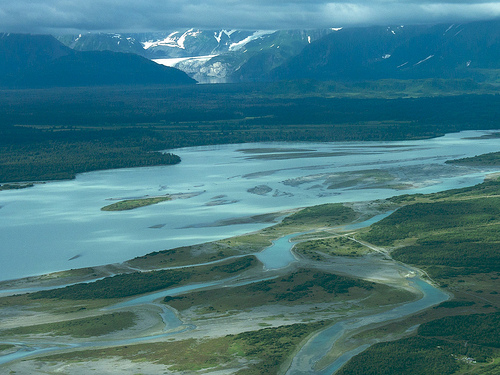 This photo is used under a Creative Commons license by Sam Beebe
For something truly above and beyond Alaska's "call of the wild," a float down the untamed Tatshenshini-Alsek River means an unforgettable feeling of seeing what few others have seen before.
This river voyage actually begins in the Yukon territory of Canada, where the Tatshenshini flows past prime wildlife viewing areas and through brisk currents before converging with the Alsek River. There, rafters have the experience of floating through the surreal and justifiably famous glacier-dammed Alsek Lake—tapping the glacial ice with their paddles—before continuing on the Alsek River into Alaska for miles more of heaven-scraping peaks and gigantic icebergs floating along for the ride. The journey from the Yukon's Dalton Bay to Dry Bay is Alaska at its most adventurous.
6. Lake Clark National Park and Preserve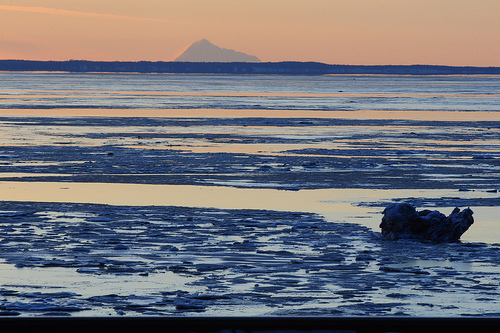 This photo is used under a Creative Commons license by Frank Kovalchek
Whether it's the blue skies of summer or the rich colors of autumn, the placid, turquoise water of Lake Clark multiplies the beauty of its surroundings.
Although the region now protected within the National Park has been occupied by humans since prehistoric times, Lake Clark still feels untouched by habitation. It truly has everything: salmon traveling through their yearly spawning missions, seal and bears preying on the fish, and a vibrant population of waterfowl. Two active volcanic peaks loom over the park, emitting portentous plumes of steam. Of the two – Mt. Iliamna and Mt. Redoubt – Redoubt claims the most recent eruption in 2009.
7. Wrangell St. Elias National Park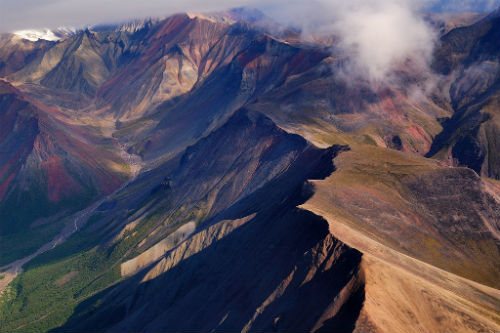 This photo is used under a Creative Commons license by James Brooks
Wrangell St. Elias is big. It's the nation's largest national park and one of the largest protected areas of wilderness in the entire world. What does that mean to you? A wonderland of mountains, grazing game such as Dall sheep, and a truly solitary wilderness experience.
Wrangell St. Elias contains 8 of the 16 tallest mountains on the continent, rivaling Denali in the awe department. It is also a land of ice fields and the Malaspina Glacier, which could eat the state of Rhode Island for breakfast.
Mountains, rivers, and trees meet the eyes in any direction, as do the animals that have called this amazing landscape home since time began.
What are your favorite views and unspoiled places in Alaska? Please share in the comments below.
Back to Blog